IRHTO -as a brand of Iran Health Tourism was founded by International Health Services Institute (TAPESH) in 2006 and began its activity with the cooperation of the governmental, private, educational and university organizations and entities with a focus in exporting health services- starts its field studies from tens of congresses and conferences as well as dispatching special party to surrounding countries to explore the reason in failure of and obstacles in formation and expansion of tourism industry in popular concept and  health tourism in special meaning of it and finally giving a positive outlook on potency of Iran by providing executive solutions.
Secondly, the executive model of health tourism provided according to previous studies based on Institutional behavior and networking. Governmental support and no interference by governmental, quasi-governmental organizations and entities, cooperation of juridical, natural person of medical and non-medical related sections, providing infrastructures in this field, having a cohesive, integrated, flexible structure accompanied by high quality and affordable, competitive prices in comparison with other surrounding countries, integrated, extensive and effective marketing using up-to-date and efficient technology including IT science based on expert human resources, educated people and marketing experts, free, convenient and secure access for health tourists to medical and tourist services- are IRHTO model's characteristics and tactics to achieve its goal of stating IRAN as a great country with medical and tourism potential to provide an appropriate context for development of Iran Medical Tourism as a humanistic, pure and also profitable industry.
Andishe Gardeshgar Asia, as the owner of the IRHTO brand has the local and international legal and contact licenses and provides its services via international quality standards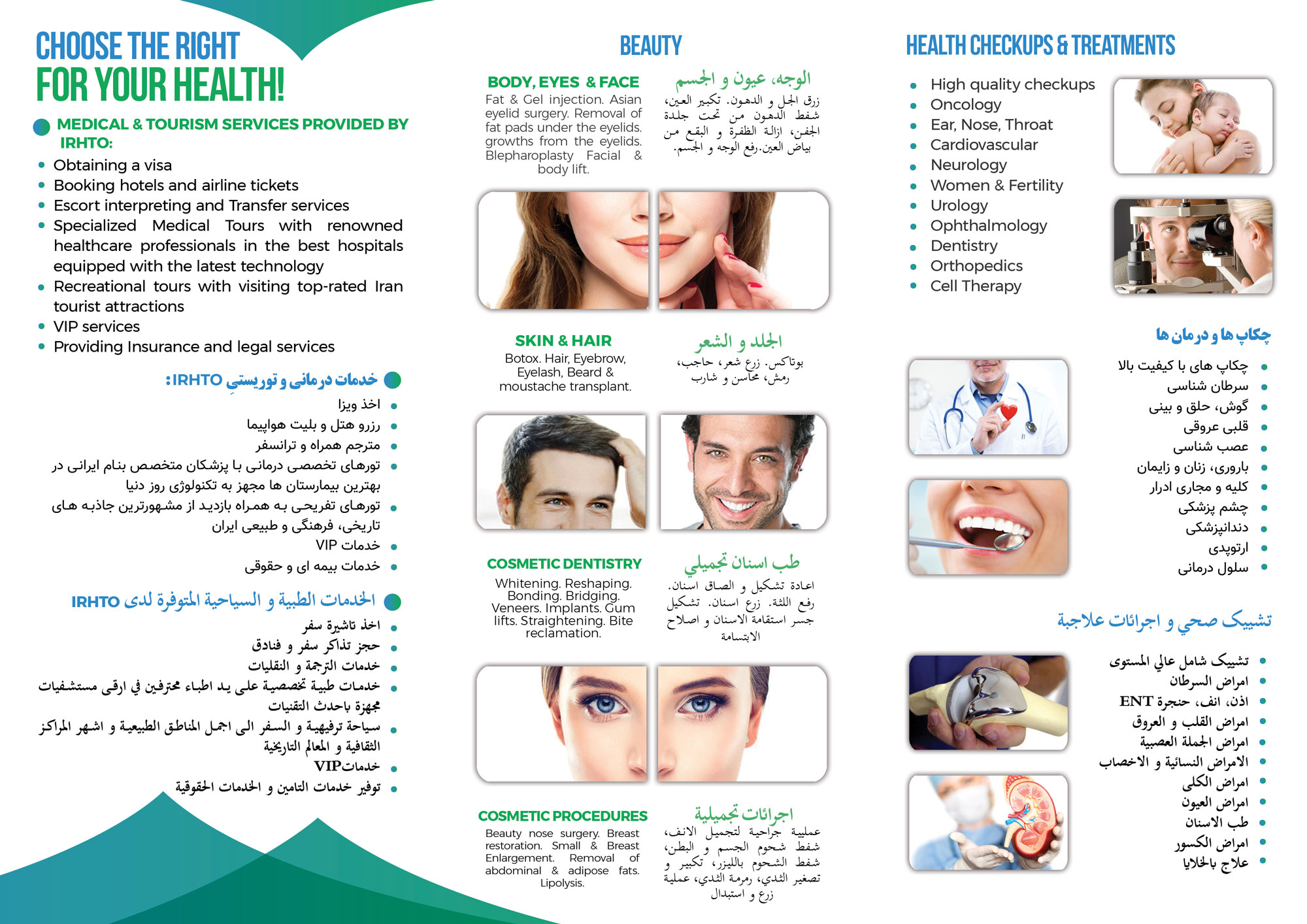 We started researching and studying about Health and Medical Services in Iran leading to the first hospital management congress, jointly sponsored by IRHTO and Tehran University of Medical Sciences, On November 10, 2008 in Kish.
Dr Ehsan Modirian has joined IRHTO In July of 2012 as a Medical Doctor. Subsequently, we held some workshops and conferences In Iran and Other countries including: The Health Tourism Workshop at Ghaem International Hospital in Rasht, International Health Services Conference in Oman, The Congress of Health Services Business sponsored by the IRHTO, the National Bank of Iran, Iran Trade Promotion Organization, Tehran Private Hospital Association, Parsian Insurance Company and Iran Hotel Association in Shiraz.
IRHTO activities
| | | |
| --- | --- | --- |
| Title | Date | Location |
| Publication of the 1st and the 2nd exports of health services reference book | July 2008 & 2009 | Tehran |
| Holding the 1st congress on hospital management | January 2009 | Kish |
| Holding the 2nd congress on hospital management | January 2010 | Tehran |
| Holding the 1st congress on medical tourism | January 2010 | Tehran |
| Holding the congress on investment opportunities in medical tourism | May 2010 | Kish |
| Holding the congress on the Northern provinces' (Gilan, Mazandaran, and Golestan) capabilities in medical tourism | July 2010 | Rasht |
| Holding the congress on the North-western provinces' (Eastern Azerbaijan, Western Azerbaijan, and Ardabil) capabilities in medical tourism | October 2008 | Tabriz |
| Holding the congress on the Southern provinces' (Fars, Bushehr, Chaharmahal and Bakhtiari, and Kohgiluyeh and Boyer-Ahmad) capabilities in medical tourism | November 2010 | Shiraz |
| Holding the congress on health international services | November 2010 | Muscat-Oman |
| Holding the 2nd congress on medical tourism (Iran health international services) | December 2010 | Tehran |
| Holding the congress on an introduction to Iran's capabilities in medical tourism | January 2011 | Kuwait |
| Holding the congress on the Eastern provinces' (North Khorasan, South Khorasan, and Razavi Khorasan, Sistan and Baluchestan) capabilities in medical tourism | February 2011 | Mashhad |
IRHTO on news agencies and news media
| | |
| --- | --- |
| News Agency | Headline |
| ISNA | Two Day Conference on Health Tourism Investment Opportunities |
| ISNA | Health tourism is an opportunity for tourism development |
| Tinn news | The first congress on health tourism and the second congress on hospital management on January 2010 in Razi Conference Center |
| Aria Heritage news | The first congress on health tourism and the second congress on hospital management on January 2010 in Razi Conference Center |
| Moj news | The first congress on health tourism and the second congress on hospital management |
| Tehran University news | The first congress on health tourism and the second congress on hospital management |
| Pezeshkanemrooz news | Formation of Iranian Health Tourism Association |
| Shafa news | The first congress on health tourism and the second congress on hospital management |
| IRIB / Kish | Kish hosts conference on health tourism development |
| Hamshahri Online | Kish hosts conference on health tourism development |
| Fars news | Milad Hospital accepts foreign patients |