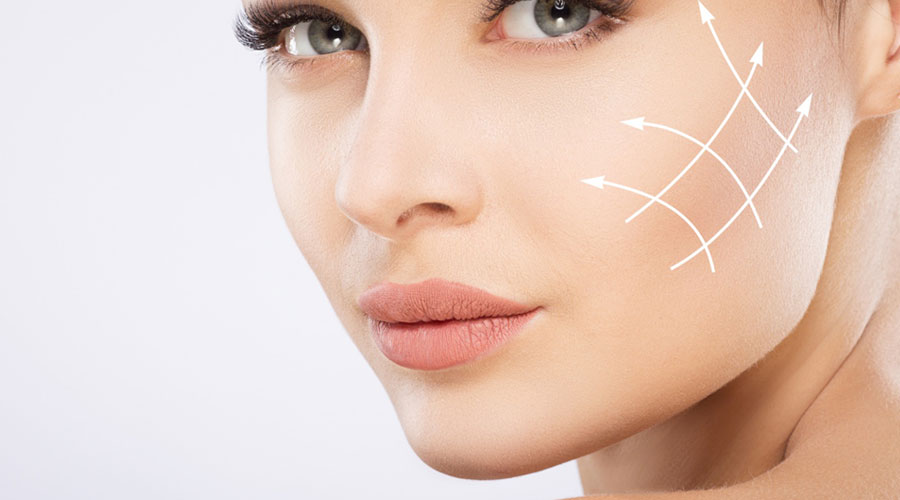 Gel-like substances, known as dermal fillers, are injected beneath the skin to restore lost volume, smooth lines, soften creases, and enhance facial contours. The injection of dermal fillers gives desirable cosmetic outcomes by erasing skin rhytides or restoring facial volume loss, or both. The commonly injected sites on the face include the perioral area, periocular region, nasolabial folds, malar fat pad, marionette lines, glabella, and lips. Over one million men and women annually have chosen this popular facial rejuvenation treatment, which can be a cost-effective way to look younger without surgery or downtime.
Where gel injection can be used?
• Soften nasolabial folds
• Smooth vertical lip lines
• Smooth chin wrinkles
• Smooth brow furrows, crow's feet, frown lines
• Smooth under the eyes / tear troughs
• Smooth marionette lines
• Fill acne scars
• Lift and enhance cheeks
• Plump the lips
• Rejuvenates hands
Early complications occur within days or weeks of the injection procedure and manifest clinically with erythema, bruising, hyperthermia, swelling, hypersensitivity, nodule formation, and lumpiness in the injection area. They are due to over-injection or mal-distribution of the filler, or they are caused by iatrogenic infection. Long-term complications are related to the injected filler itself and delayed host response. These complications contain delayed manifestations of infection such as abscess formation, migration of filler, disfiguring nodules and scarring, tissue necrosis and ulcer, and persistent discoloration.
Dermal filler injections are non-surgical and typically completed during an office visit. Your initial treatment will begin with a consultation, during which you will meet with your cosmetic surgeon to discuss your concerns and goals.
During your consultation, your cosmetic surgeon will evaluate your area of concern and review your medical history. While the risks associated with dermal fillers are minimal, you need to fully disclose your medical history prior to treatment, as certain allergies, skin and neurological conditions, or medications can jeopardize your safety or results. For instance, you need to tell your cosmetic surgeon if you have been taking NSAIDs (e.g., aspirin, ibuprofen, and naproxen) or blood thinners, for increasing the likelihood of bruising.
Just before the actual treatment, the area will be cleaned, and you may be given a topical anesthetic to numb the area prior to injection. Many filler products also contain lidocaine, a mild anesthetic, which is intended to help minimize discomfort during and after your treatment. Your provider will then inject a precise amount of filler strategically beneath the skin.
Depending on the product and the areas treated, you should be able to notice results immediately after receiving filler injections. Some patients experience mild bruising and swelling, but these are temporary and should subside over the days following treatment. You will be able to go back to your normal activities right after treatment, but your cosmetic surgeon may ask you to take the day off from exercise or other strenuous activity.
Facial fat grafting is a surgical procedure and follows a different treatment protocol. Typically, fat grafting is performed as an outpatient procedure, using general anesthesia or local anesthesia with sedation. Up to 2 weeks of downtime may be required, depending on the extent of liposuction performed. Your cosmetic surgeon will go over what to expect with surgery and recovery during your consultation.
How long the effects of dermal fillers will last depends on the product, the area of treatment, and the patient. Generally speaking, the denser the product is and the more deeply it is injected, the longer it will last, although this is not a hard and fast rule. To maintain your results, your cosmetic surgeon will simply repeat treatment, adjusting the amount and techniques as necessary to ensure optimal results.