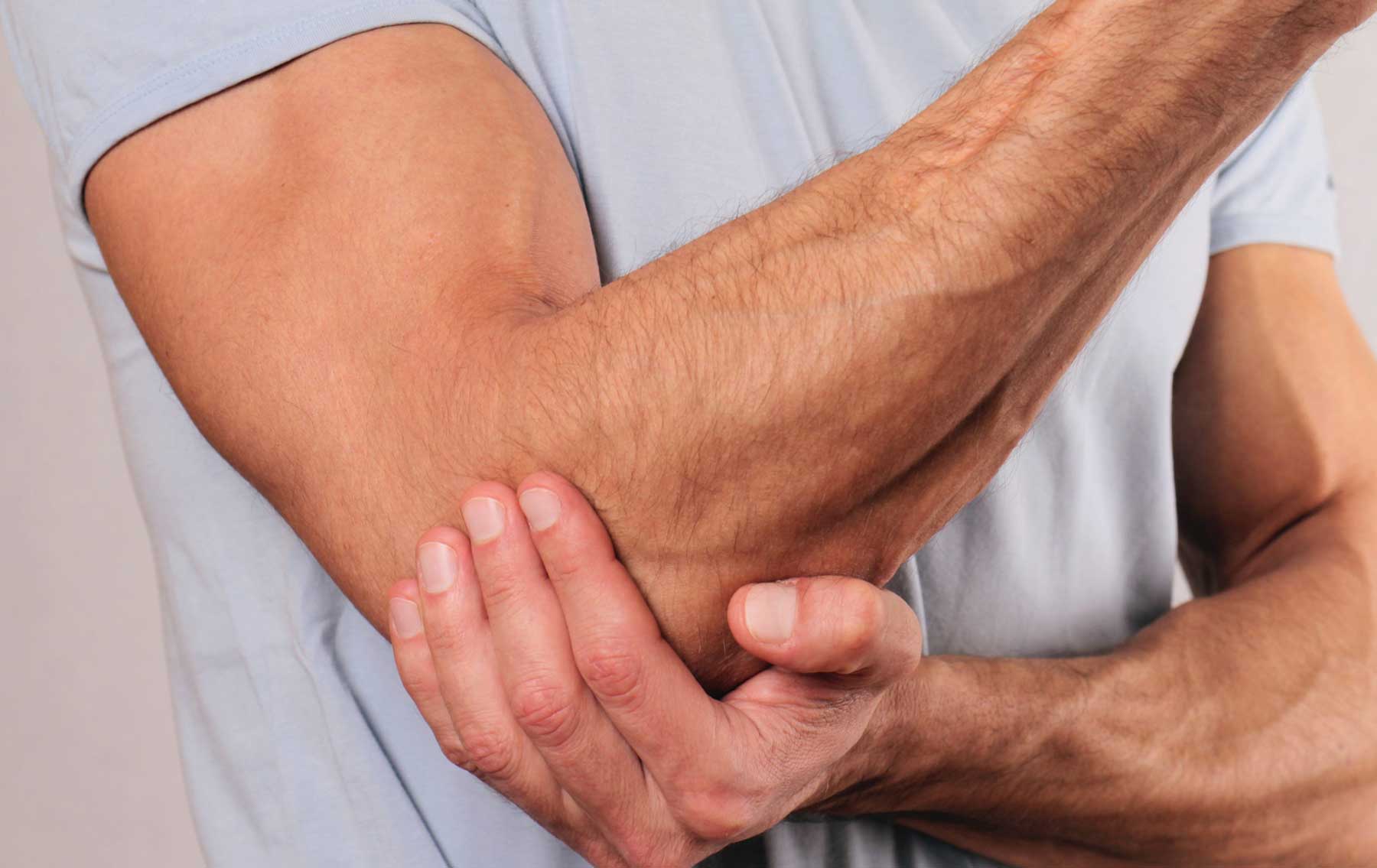 Elbow Pain and Problems
Cubital Tunnel Syndrome

Cubital tunnel syndrome happens when the ulnar nerve, which passes through the cubital tunnel (a tunnel of muscle, ligament, and bone) on the inside of the elbow, is injured and becomes inflamed, swollen, and irritated.
Cubital tunnel syndrome causes pain that feels a lot like the pain you feel when you hit the "funny bone" in your elbow. The "funny bone" in the elbow is actually the ulnar nerve, a nerve that crosses the elbow. The ulnar nerve starts in the side of your neck and ends in your fingers.
Causes

Cubital tunnel syndrome may happen when a person bends the elbows often (when pulling, reaching, or lifting), leans on their elbow a lot, or has an injury to the area.
Arthritis, bone spurs, and previous fractures or dislocations of the elbow can also cause cubital tunnel syndrome.
In many cases, the cause is not known.
Treatments

The most effective treatment for cubital tunnel syndrome is stopping the activity that is causing the problem. Treatment may include:
Resting and stopping any activity that aggravates the condition, such as bending the elbow
A splint or foam elbow brace worn at night (to limit movement and reduce irritation)
Using an elbow pad (to protect against chronic irritation from hard surfaces)
Anti-inflammatory medicines (such as ibuprofen or naproxen)
Nerve gliding exercises
If these treatments don't work, the healthcare provider may talk to you about:
Steroid injections to help reduce swelling and pain
Surgery
Lateral Epicondylitis (Tennis Elbow)

Tennis elbow (lateral epicondylitis) is swelling of the tendons that bend your wrist backward away from your palm.
A tendon is a tough cord of tissue that connects muscles to bones. The tendon most likely involved in tennis elbow is called the exterior carpi radialis brevis. Tennis elbow is usually diagnosed in both men and women between ages 30 to 50.
Causes

Tennis elbow, as the name implies, is often caused by the force of the tennis racket hitting balls in the backhand position. Your forearm muscles, which attach to the outside of your elbow, may become sore from excessive strain. When making a backhand stroke in tennis, the tendons that roll over the end of our elbow can become damaged. Tennis elbow may be caused by:
Improper backhand stroke
Weak shoulder and wrist muscles
Using a tennis racket that is too tightly strung or too short
Other racquet sports, like racquetball or squash
Hitting the ball off center on the racket, or hitting heavy, wet balls
However, many people who suffer from tennis elbow do not play tennis. The problem can be caused by any repetitive movement. Other causes of tennis elbow include:
Painting with a brush or roller
Working a chain saw
Frequent use of other hand tools on a regular basis
Using repeated hand motions in various types of work, such as butchers, musicians, dentists, and carpenters
Treatments

It's important to avoid the movement that caused your injury in the first place. Treatment may include:
Rest and stopping the activity that produces the symptoms
Ice packs to reduce inflammation
Strengthening and stretching exercises
Anti-inflammatory medicines such as ibuprofen or naproxen
If these treatments don't work, your healthcare provider may talk to you about:
Bracing the area to keep it still for a few weeks or use of a special brace with activities
Steroid injections to help reduce swelling and pain
A special type of ultrasound that can help break up scar tissue, increase blood flow, and promote healing
Surgery is rarely necessary
Medial Epicondylitis (Golfer and Baseball Elbow)

Medial epicondylitis is also known as golfer elbow, baseball elbow, suitcase elbow, or forehand tennis elbow. It causes pain from the elbow to the wrist on the inside (medial side) of the elbow. The pain is caused by damage to the tendons that bend the wrist toward the palm. A tendon is a tough cord of tissue that connects muscles to bones.
Causes

Medial epicondylitis is caused when excessive force is used to bend the wrist toward the palm. This can happen when swinging a golf club or pitching a baseball. Other possible causes of medial epicondylitis include:
Serving with great force in tennis or using a spin serve
Weak shoulder and wrist muscles
Using a tennis racket that is too tightly strung or too short
Throwing a javelin
Carrying a heavy suitcase
Chopping wood with an ax
Using a chain saw
Frequent use of other hand tools on a continuous basis
Treatments

Treatment for medial epicondylitis includes stopping the activity that produces the symptoms. It is important to stop doing the movement that caused the condition in the first place. Treatment may include:
Ice packs to reduce inflammation
Strengthening exercises
Anti-inflammatory medicine
Bracing
Physical therapy
Corticosteroid injections
Surgery (rare)