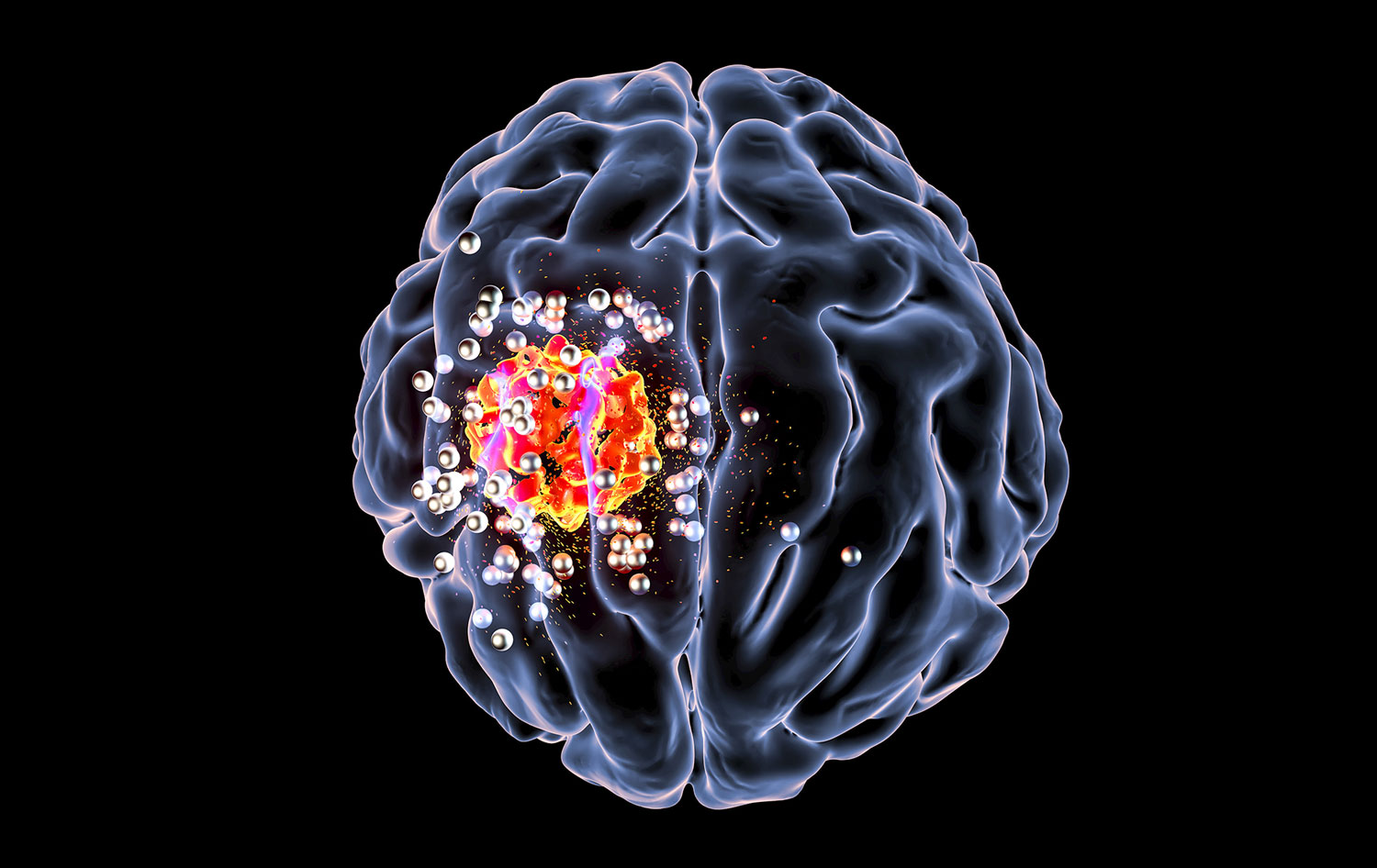 A brain tumor, known as an intracranial tumor, is an abnormal mass of tissue in which cells grow and multiply uncontrollably, seemingly unchecked by the mechanisms that control normal cells. More than 150 different brain tumors have been documented, but the two main groups of brain tumors are termed primary and metastatic.
Primary brain tumors include tumors that originate from the tissues of the brain or the brain's immediate surroundings. Primary tumors are categorized as glial (composed of glial cells) or non-glial (developed on or in the structures of the brain, including nerves, blood vessels and glands) and benign or malignant.
Causes

Brain tumors are thought to arise when certain genes on the chromosomes of a cell are damaged and no longer function properly. These genes normally regulate the rate at which the cell divides (if it divides at all) and repair genes that fix defects of other genes, as well as genes that should cause the cell to self-destruct if the damage is beyond repair. In some cases, an individual may be born with partial defects in one or more of these genes. Environmental factors may then lead to further damage. In other cases, the environmental injury to the genes may be the only cause. It is not known why some people in an "environment" develop brain tumors, while others do not.
Treatments

Brain tumors (whether primary or metastatic, benign or malignant) usually are treated with surgery, radiation, and/or chemotherapy — alone or in various combinations. While it is true that radiation and chemotherapy are used more often for malignant, residual or recurrent tumors, decisions as to what treatment to use are made on a case-by-case basis and depend on a number of factors. There are risks and side effects associated with each type of therapy.
Visualase. Laser Thermal Ablation is a newer technique that some centers are using to treat smaller tumors particularly in areas that may be more difficult to reach using previous open surgery procedures. This involves placing a tiny catheter within the lesion, possibly completing a biopsy, then using laser to thermally ablate the lesion. This technique is only more recently used in brain tumor treatments; therefore, the long-term efficacy has not been established.
Investigational Therapies. Many types of new therapies currently are being studied, especially on tumors for which the prognosis is generally poor through existing conventional therapies. It is unknown whether these therapies will work. Such therapies are given according to a protocol and include various forms of immunotherapy, therapy using targeted toxins, anti-angiogenesis therapy, gene therapy and differentiation therapy. Combinations of treatments also may be able to improve the outlook for patients, while lowering the adverse side effects.