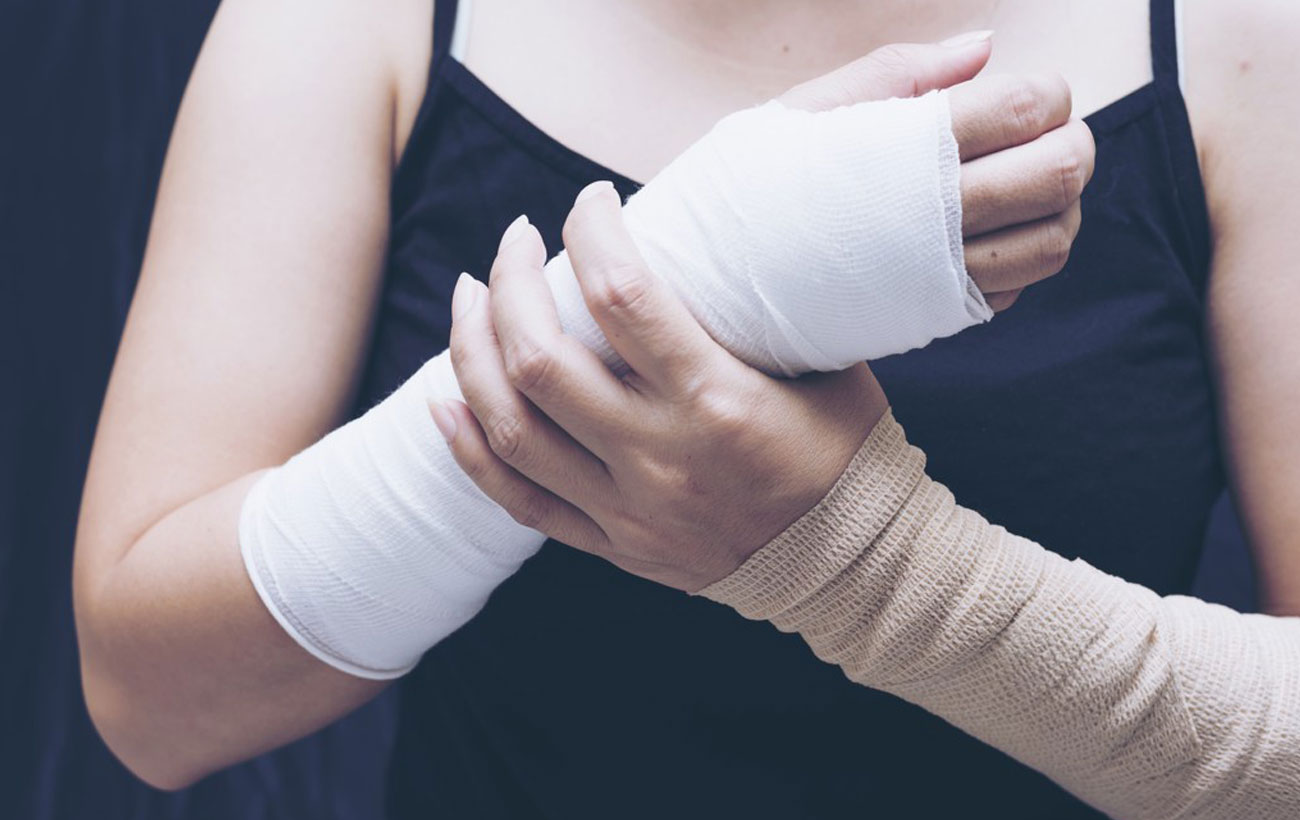 Fractures
A fracture is a partial or complete break in the bone. When a fracture happens, it's classified as either open or closed:
Open fracture (also called compound fracture): The bone pokes through the skin and can be seen, or a deep wound exposes the bone through the skin.
Closed fracture (also called simple fracture). The bone is broken, but the skin is intact.
Causes

Fractures most often happen when more force is applied to the bone than the bone can take. Bones are weakest when they are twisted.
Bone fractures can be caused by falls, trauma, or as a result of a direct blow or kick to the body.
Overuse or repetitive motions can tire muscles and put more pressure on the bone. This causes stress fractures. This is more common in athletes.
Fractures can also be caused by diseases that weaken the bone, such as osteoporosis or cancer in the bones.
Treatments

The goal of treatment is to put the pieces of bone back in place, control the pain, give the bone time to heal, prevent complications, and restore normal use of the fractured area.
Treatment may include:
Splint or cast. This immobilizes the injured area to keep the bone in alignment. It protects the injured area from motion or use while the bone heals.
Medicine. This may be needed to control pain.
Traction. Traction is the use of a steady pulling action to stretch certain parts of the body in a certain direction. Traction often uses pulleys, strings, weights, and a metal frame attached over or on the bed. The purpose of traction is to stretch the muscles and tendons around the broken bone to help the bone ends to align and heal.
Surgery. Surgery may be needed to put certain types of broken bones back into place. Occasionally, internal fixation (metal rods or pins located inside the bone) or external fixation devices (metal rods or pins located outside of the body) are used to hold the bone fragments in place while they heal.
Hip Fracture

A hip fracture is a break in the thighbone (femur) of your hip joint.
Joints are areas where 2 or more bones meet. Your hip joint is a "ball and socket" joint, where your thighbone meets your pelvic bone. The ball part of your hip joint is the head of the thighbone. The socket is a cup-like structure in your pelvic bone. This is called the acetabulum. Hip fracture is a serious injury and needs immediate medical attention.
Most hip fractures happen to people older than age 60. The incidence of hip fractures increases with age, doubling for each decade after age 50. Caucasians and Asians are more likely to be affected than others. This is primarily because of a higher rate of osteoporosis. Osteoporosis (loss of bone tissue) is a disease that weakens bones.
Women are more prone to osteoporosis than men; therefore, hip fracture is more common among women.
Risk Factors

You are at risk for a hip fracture if you have osteoporosis. Older age also puts you at more risk. Other things that may raise your risk include:
Excessive alcohol consumption
Lack of physical activity
Low body weight
Poor nutrition including a diet low on calcium and vitamin D
Gender
Tall stature
Vision problems
Thinking problems such as dementia
Physical problems
Medicines that cause bone loss
Cigarette smoking
Living in an assisted-care facility
Increased risk for falls, related to conditions such as weakness, disability, or unsteady gait
Treatments

A fracture of your hip is generally treated with surgery. Your surgeon may use metal devices to strengthen and stabilize your joint. In some cases, he or she may do a partial or total hip replacement. The type of surgical repair will depend on the type of hip fracture. Your surgeon will determine the best procedure for you, based on your situation. The goal of treatment is to provide relief from pain and enable you to resume your normal activity level. Hip surgery usually requires an in-hospital stay. While in the hospital, you start doing physical therapy exercises to regain strength and range of motion in your hip. Physical therapy will continue at home or on admission to a rehabilitation facility.