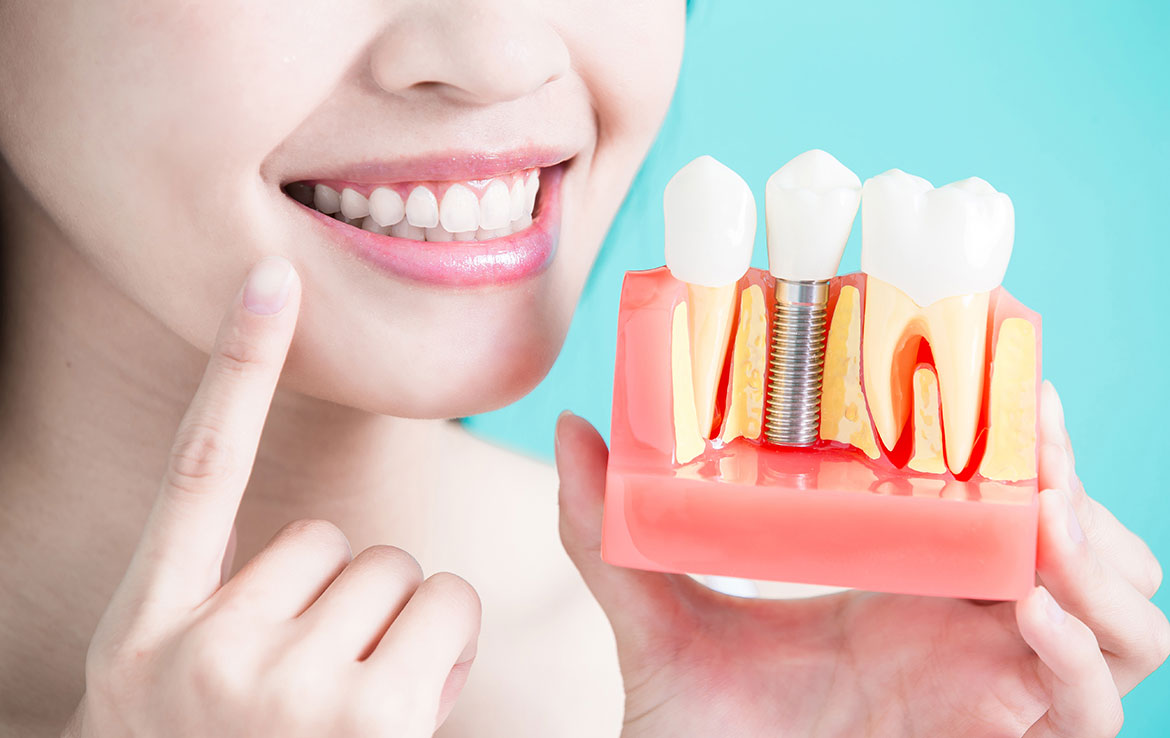 Dental implants are alternatives to removable dentures or bridges and are used for cosmetic or functional reasons. Implants can be fashioned for a single, missing tooth or for multiple teeth. Patients being treated for trauma to the jaw or head and neck cancers may need multiple implants.
Components
Dental implants are a conservative long-term solution to restore missing teeth. They replicate the appearance and function of natural teeth. Dental implants are composed of three parts:
Implant, a post made of titanium, a metal that is compatible with the human body
Abutment, which fits on top of the post
Crown, usually made of porcelain
During a period of time, usually two to six months, the metal post on which the new crown will rest becomes fused with the bone of the jaw. Once the post and jawbone have fused, a new crown and abutment attaching to the implant are created and attached. Implants support individual cemented crowns, bridges or dentures.
Benefits
Both physicians and dentists recommend dental implants when possible. Dental implants:
Are a long-lasting treatment (hopefully they will last for a lifetime)
Do not require removable appliances
Do not require filing or shaping of what may be otherwise healthy teeth
Require the same care as your natural teeth
Are more permanent than other prostheses
Feel natural
Can withstand normal wear and tear better than any other dental restorative technique
Expectation
After our dentists meet and evaluate your need for a dental implant, they will create a treatment plan. Usually our general dentists will also consult with our prosthodontist.
You will also meet our oral surgeon who will discuss your bone quality and bone levels, and explain the surgery. If your jawbone is not strong enough to support the dental implant, grafts may be needed.
Grafting is done in two steps:
Synthetic material is grafted to the area of the dental implant
After the graft heals, the implant can be placed. Your oral surgeon will discuss this process with you in depth.
The oral surgeon places the dental implant. This procedure is usually performed under local anesthetic and takes about one hour. It is easier that having a tooth prepared for a crown or restoration.
It usually takes two to four months for the implant to fuse to the bone. Once the implant is stable, and the bone has grown densely around the implant's titanium post, your prosthodontist or general dentist will install the abutment and crown.
Care
Treat your implant like a natural tooth.
Brush at least twice a day and floss once a day.
During routine checks at the dentist, your implant will be checked for any signs of wear and tear.
Cost
The fee for tooth replacement with dental implants depends on several factors, including the number of teeth being replaced and the number of implants needed to support your replacement teeth. After a thorough examination, we can give you a treatment plan, and estimate the specific fees. In some special cases, medical insurance may cover these costs.